by Kathryn Marr
There are a lot of ways you can generate income as a writer, but one of my favorites is selling eBooks and other content on your website.  Why?  Well, the biggest benefit is that this type of income is passive – do the upfront work, set things up correctly, and then the bulk of the work is done!  You could sell copies of your eBook 10 or 15 years after you add it to your site, just as actors collect royalties from reruns of their television shows.
But the biggest key is to make sure you get everything set up the right way.  So in the next few paragraphs, I'm going to walk you through things to consider when you're selling your content online.
1. Decide how you want to sell your content.
Two of the most common methods of selling your content online are ecommerce shops and resource libraries.  And this really varies depending on the type of content that you're selling.
If you're selling unrelated content like individual novels or digital formats of books that you also have in print, ecommerce is most likely the best option.  A customer can browse through your books, pick the ones they want, and check out.
However, if you're selling a variety of eBooks on similar topics, you may want to consider a resource library.  You see, with a resource library, a customer might pay a one-time access fee (or monthly payments) to gain access to all of your eBooks or resources at once.  For example, you may have a library of eBooks about healthcare that go into specific details on several different, related topics, and a resource library may be a good method of selling.
Just make sure to do some research into your own target audience to see which they're most likely to purchase.  And, of course, you could offer both!
2. Choose a method to sell your books.
If you have an existing website, then you can certainly incorporate your eBooks into your current site.  But if you are choosing a new platform, there are a lot out there to choose from!  And while Shopify and Squarespace are both plausible options (and each have their own benefits) I really prefer a self-hosted WordPress site using WooCommerce.
Why?
Because WordPress is by far the most feature-rich option – you can expand it to encompass any functionality or design that you'd like.  And if you want to manage a full site with pages and a blog in addition to the Shop portion, it's definitely the better solution.
WooCommerce also provides a variety of easy-to-use integrations and advanced shop functionality if you did want to ever ship your products, charge for subscriptions, create a resource library, etc.
Just make sure to choose a good hosting provider for speed, security, and support.  You can see my favorite WordPress hosts here.
3. Create a great eBook cover.
An appealing cover needs to grab attention and communicate exactly what your book has to offer in, well, a matter of seconds.  You'll use this cover on marketing materials, social media posts, and product images.
Make sure to use attractive, eye-catching graphics that immediately portray the topic of the eBook.  Add a title, description, and possibly a list of topics covered, if the eBook is instructional.  Below is an example of a book cover that I recently created for a solar power client – the image immediately indicates that the book is about solar energy while the title and description explain why someone should download it.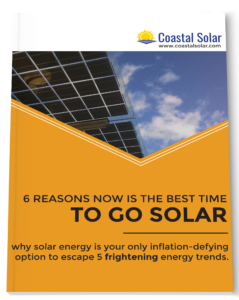 If you aren't working with a graphic designer for your book covers, consider using an online tool like Canva.  They have built in book cover templates, free or $1.00 stock images, and a variety of other design and layout tools that can help you get your book cover to the place you want it to be.
4. Set up your online store.
If you've decided to go the WordPress + WooCommerce route, there's an easy-to-use configuration tool that pops up once you've installed the plugin.  It'll walk you through all of the basics of getting your store set up.
The next thing you want to do is decide on a payment gateway, which will allow you to accept online payments.  My recommendation is Paypal Pro, but you can view a great comparison of Paypal, Authorize.net, and Stripe here.  WooCommerce integrates easily with all of these, so simply add the corresponding WooCommerce plugin once you've decided on a gateway.
Then, start adding products!  Make your titles and descriptions compelling, use your cover design as a product image, add pricing, and the upload the file that your customers will receive after purchase.  For a full rundown of how to add digital products in WooCommerce, check out this great article from WooBeginner.
5. Test, test, test!
Make sure you test out your online store once you've finished setting it up.  Test the entire process from start to finish to make sure that the payment/download process works perfectly.  I would also encourage you to have a friend, colleague, or family member test the site as well – someone who may be in your target audience who's unfamiliar with the process.  They'll provide the best feedback!
6. Give away one of your eBooks for free.
This may sound counterintuitive, but it's one of the best ways to sell your books!  And, of course, it doesn't necessarily have to be an entire book – it could be the first chapter of your novel.  The point is to give away a little taste in exchange for an email address!  Not only will their interest be piqued with the free, no-commitment taste of your writing, you'll also have their email that you can use for future marketing, sales, and more.  Below is a great example of what one of my clients is offering for his freebie.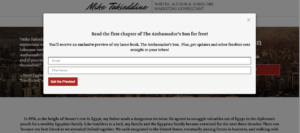 7. Incorporate effective calls to action throughout your site.
You want to make sure that people know you have great books for sale, especially if you already have an existing website!  Add calls to action in applicable places throughout your site such as the sidebar of your blog, the bottom/middle of blog posts, or your home page.  Use compelling language, great images, and brightly-colored buttons that direct site visitors to your store or freebie.
For example, on another of my clients' websites, we decided to create three call to action options on his home page – three different types of books that might compel three different people.  While in this case three free eBooks were advertised, this also works well for your products.

**
So there you go!  Now you have a fully functional ecommerce store, ready to sell your eBooks.  If you have any questions, feel free to reach out.  Happy writing!
---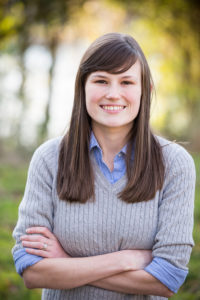 Bio: Kathryn Marr is the co-founder and Chief Creative Officer of Blue Ivory Creative, a digital marketing company based out of Nashville, TN.  A graphic and web designer, as well as social media manager, she brings a passion for entrepreneurship and creativity to the table.  Kathryn loves helping people pursue their dreams and be successful doing what they love to do.
Website: www.blueivorycreative.com
Facebook: www.facebook.com/blueivorycreative
Pinterest: www.pinterest.com/bivorycreative